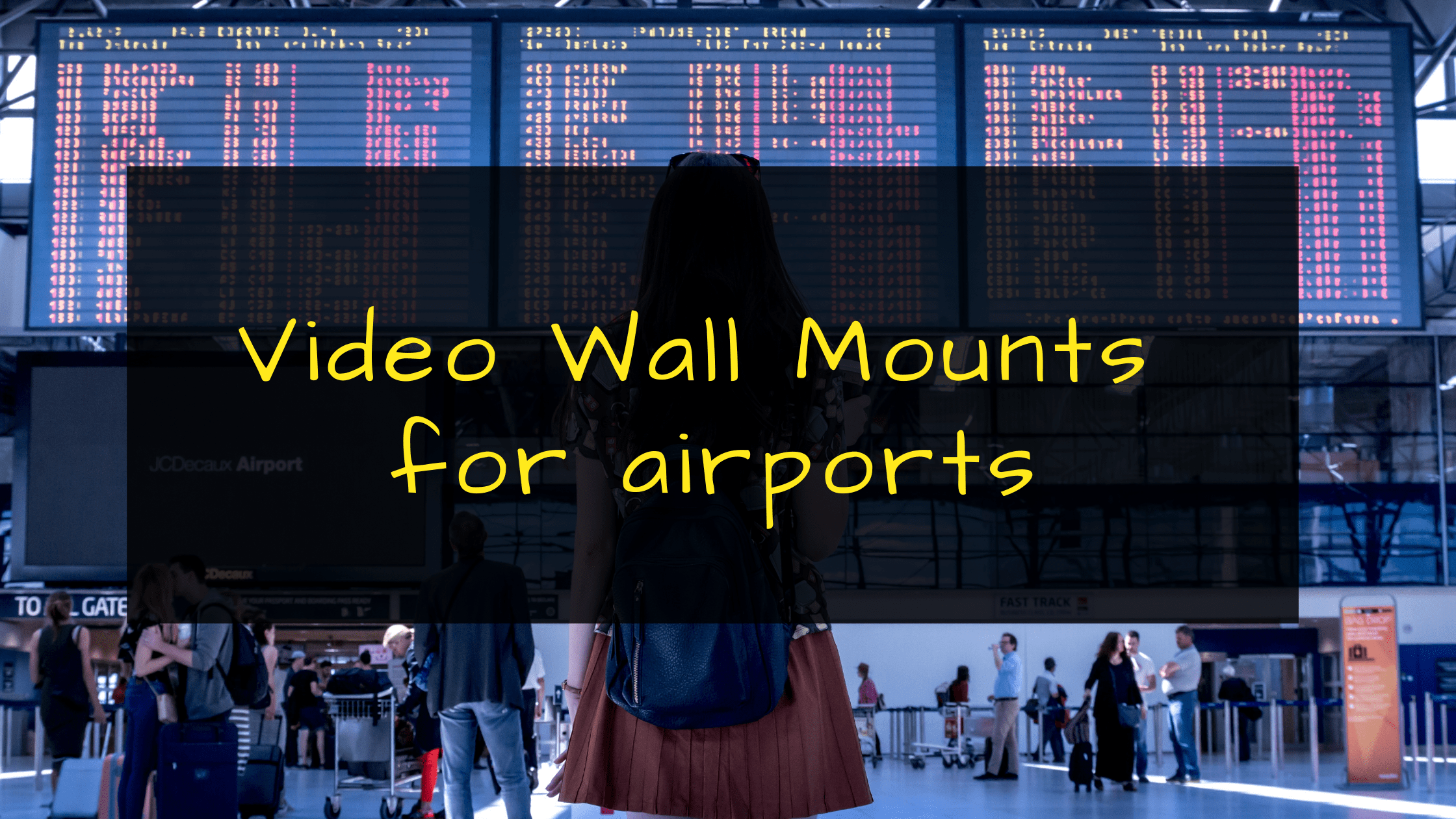 The digital display market is booming. The Tranquil Mount provides a variety of digital signage mounting solutions which are perfect for use in every situation where information needs to be present to the public. Video wall installations are quickly becoming the go-to solution for presenting large amounts of data in commercial places. Multiple displays aren't just cropping up in corporate boardrooms. Airport check-in desks, luggage check-in, flight information, restaurant menu boards, retail, control rooms, corporate, hospital screens & public spaces with cutting edge digital video walls are all the rage.
Video walls Display also help in visualizing data because they can show large amounts of information that is visible to various people at the same time.
Tranquil mount's range of video wall mounting features a variety of different products, allowing video walls to be mounted to a wall, on poles, excluded from the ceiling or freestanding on the floor.
Video Wall Ceiling Mount is the absolute solution when designing impacting digital advertising displays in no wall situations.
Building electronic signage Display video walls with the wrong or poor mounting brackets can result in distortion and poor finish and can add many working hours to the installation.
Tranquil mount's video wall was tested in-house and approved for use. The MV70 wall mounts have been proven to provide smooth installation and adjustment to ensure near-perfect alignment with innovative weight balancing systems no matter the size or thickness of TVs. The mounts also offer comfortable access for cabling and front access for maintenance of the video wall. All these features will help to ensure the long-life operation of our mounts with little maintenance.
The most popular mount in the range is the Video Wall TMO MV70. Features include tool-free precise height adjustment, depth adjustment and tilt adjustment for seamless display alignment. Secure video mounts modular bracket solution which allows the adjustment of video walls of any size or configuration – in both landscape and portrait orientations. A pop-in and pop-out mechanism allows quick access to the rear of mounted screens for maintenance and servicing and makes mounting into a recessed wall possible.
You can do toolless micro-adjustment at 8 points means screens can be perfectly aligned and screen-specific spacers provide video walls to be assembled without the need for time-consuming calculations and measurements.
Choose from Tranquil mount's variety of different LED screen wall and ceiling mounts suitable for Samsung, Philips and Panasonic LCD Displays.
Various features of Video Mount TMO MV70:
Take control of your installation with Tranquil mounts. These universal, low-profile mounts are the perfect solution for many applications. Fusion is a one-of-a-kind flat panel display mounting system that solves the most challenging installation challenges with easy pull out function makes it ideal for digital signage solution. Suitable for rolling out electronic signage using Samsung, Philips and Panasonic.
Our Video wall mounting solution are world class and made from strong material.